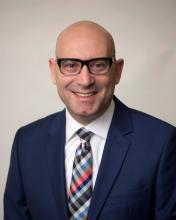 University of Leeds, UK
 ...
Topic:
Marine environment and coastal management
"Modelling the riverine plastic litter contribution to marine litter: advances and challenges"
Dr Costas Velis (BSc MSc DIC PhD MInstP MCIWM) is an international expert on circular economy and resource recovery from waste. An academic at the School of Civil Engineering, University of Leeds, in the UK, he coordinates across the University a cross-disciplinary network on Circular Economy & Resource Recovery (CERRY), and manages a solid waste characterization laboratory. Dr Velis was recently appointed as Chair in the new ISWA Marine Litter Task Force, aiming at establishing the clear link between sound waste and resource management practices and the prevention of marine litter global challenge.
He leads a research team with the vision of using wastes to close material loops and accommodate for our energy needs, in environmentally sound clean material flows, while maximizing the overall benefits to society. His expertise covers topics from informal sector recycling in the Global South, to the production and quality assurance of solid recovered fuels (SRF), to holistic systems assessment such as circular economy for waste plastics.
A Chartered Waste Manager by CIWM, and registered with the Institute of Physics (MInstP), with over 13 years of work and research experience in innovation for waste and resources management, he serves in many international committees and initiatives addressing relevant challenges of global scale, including the prestigious seminal Global Waste Management Outlook released by UNEP. He has a very wide research portfolio as PI and Co-I, and has delivered invited lectures around the World.
Dr Velis is Vice Chair of the ISWA European Group; Head of the Waste Atlas Partnership Scientific Committee; and Vice Chair of the Waste to Energy Resource and Technology Council – UK. Published in leading academic journals, and having delivered invited lectures all over the world, he offers to his profession as Associate Editor of the academic journals Waste Management & Research, and Critical Reviews in Environmental Science and Technology. Costas's academic research papers have been honored with many prestigious Awards, including those from ICE, CIWM and ISWA (Institution of Civil Engineers; The Chartered Institution of Wastes Management; International Solid Waste Association).
Dr Velis holds a PhD in Environmental Engineering from Cranfield University, an MSc in Environmental Engineering and Sustainable Development form Imperial College London, and a BSc in Physics from University of Athens.